Volunteer
Volunteering at Gilda's Club Seattle can be a rewarding experience and we offer many ways that you can help to support the Gilda's Club community. We have opportunities for teaching classes and workshops and for Family Program volunteers; people who love to bake for events, stuff envelopes for large mailings, or write thank you notes; people who like to research, write letters, and solicit items for program and clubhouse needs; handypersons who can do building maintenance and repairs; and corporate groups that would like to spend a few hours, on a one time basis, sprucing up the clubhouse.
If you are interested in volunteering at Gilda's Club Seattle the first step is to complete our online Volunteer Application. Please do mention the things that you would be interested in doing. Once we receive your application we will email or call you about your volunteer interests.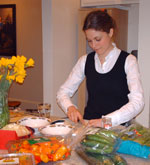 Details about the volunteer options:
Teaching classes/workshops - many of our classes and workshops are taught by volunteers from the community - people who have training and expertise in areas such as art, nutrition, exercise, and cancer-related education. The programming schedule is a compromise of your availability, as well as ours, and classes can be weekly, monthly, or simply a one-time event. To facilitate support groups you do need to be currently licensed in the State of Washington as a social worker or mental health counselor and be trained in the Gilda's Club model of group facilitation.
Family Cancer Support Program - teens ages 16+ may help out on the 3rd Saturday of the month Family Cancer Support Program; as counselors for our annual Camp Sparkle weeklong day camp in the summer; and for big family social events.
Bakers - come and bake cookies for events, or for freezing, in our beautiful clubhouse kitchen.
Mailings - come and stuff/label large quantities of envelopes on an as-needed basis throughout the year.
Development Assistant - research, write letters, and solicit a wide variety of donations for program and clubhouse needs throughout the year. Good communication skills and enjoyment in engaging with people are necessary!
Corporate Groups - come and help us with spring and fall - and any other time of the year - housecleaning (we have a 7,000 square foot house!), organizing a multitude of different things, window washing, repainting our red front door, light carpentry, and more.
Please just give us a call if you have any questions: 206-709-1400 or simply email info@gildasclubseattle.org.
Did You Know?
FACT: Gilda's Club is for men, women and children with any type or stage of cancer - and their families and friends.

MYTH: Gilda's Club is for women with ovarian cancer.