Volunteer
Many Gilda's Club program activities are facilitated by volunteers. Credentialed and Certified professionals provide classes, workshops, and lectures. Such professionals include artists, craftspeople, exercise therapists, meditation, yoga, and tai chi instructors, nurses, doctors, nutritionists and other experts.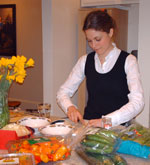 After submitting your volunteer application, you will be contacted by email to set up a meeting with our Volunteer Coordinator and Program Director. If you prefer not to be contacted by email, let us know, and we will phone you. Thank you.
Teaching Classes - All of our classes are taught by volunteers - if there is something that you feel you are an expert in, you don't need a degree and you would like to teach others, then this is the volunteer opportunity for you. Class schedules are a compromise of your availability as well as ours; they can be weekly, monthly, or a one time event.
Did You Know?
Who founded Gilda's Club?

Gilda's Club was founded in memory of Gilda Radner by her husband, Gene Wilder, her psychotherapist, Joanna Bull, and her friends.