Fundraiser Details
Thank you for supporting the 17th Annual "Surviving with Style" Fashion Show & Luncheon! We raised over $250,000 for Gilda's Club Programs and Services.
The Westin Seattle, 1900 5th Ave 98101 :: MAP
Tue, May 20,2014 11:30 am Cost: $150.00 per person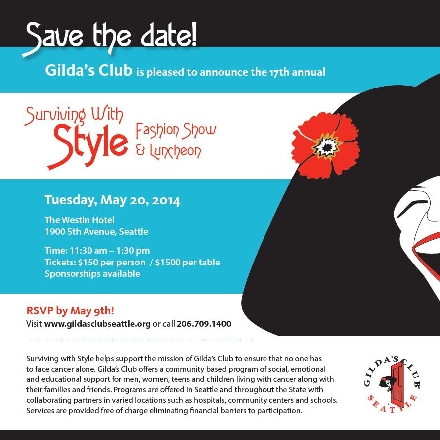 Over $250,000 raised for programs and services. Thank you to all major sponsors, thank you to 2014 Chairpersons Senator Andy Hill & Molly Hill, and the committee. A big thank you to the 2014 Models!
Did You Know?
"Many of my patients have found hope and joy in the many activities and educational programs you offer. Having lost my wife, Marsha, to ovarian cancer in 1993, I personally understand the pain that patients and their families go through and I commend Gilda's Club for filling this need in the Seattle community."
Saul E. Rivkin, MD
Hematology, Medical Oncology, Swedish Cancer Institute, Chairman of the Board & Founding Director, Marsha Rivkin Center for Ovarian Cancer Research
Join Gilda's Club
Membership is Free!
Click the button below to learn about all the benefits you'll receive.
Become A Member