Fundraiser Details
The Gilda's Bar is Here!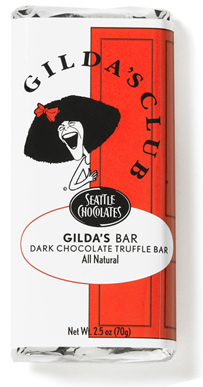 Celebrate Gilda's Club Seattle's 10 year anniversary with a delectable dark chocolate truffle Gilda's Bar created by Seattle Chocolates.
You can buy one for yourself or get creative. They make great hostess gifts, party favors and stocking stuffers!
And, five lucky winners will find a golden ticket in their bar that will open the doors to a rare group tour of the Seattle Chocolates factory. This marks the first time that Seattle Chocolates is allowing a tour of its fabulous factory.
Bars are $5 each and all proceeds benefit our free program of services for men, women and children living with cancer. Click here to purchase from the Seattle Chocolates website.
Buy them by the bar or by the dozen and enjoy!!
Did You Know?
FACT: Gilda's Club is for men, women and children with any type or stage of cancer - and their families and friends.

MYTH: Gilda's Club is for women with ovarian cancer.
Join Gilda's Club
Membership is Free!
Click the button below to learn about all the benefits you'll receive.
Become A Member