Fundraiser Details
Songs for June
The Triple Door Theater's Musicquarium Lounge, 216 Union St 98101 :: MAP
Tue, Jun 14,2011 9:00 pm - 11:00 pm Cost: $25.00 per person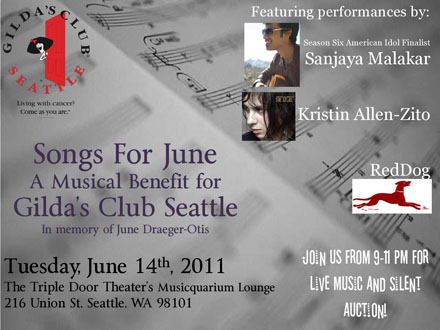 In memory of Gilda's Club member June Draeger-Otis, please join us for an evening of live acoustic music. Featuring performances by American Idol's Sanjaya Malakar, singer-songwriter Kristin Allen-Zito, and old-time stringband RedDog (Doug Yule, Cary Lung, and Tom Collicott).

A silent auction will be conducted during the benefit as well.

Reserved space in this intimate lounge is limited, so advance registration is recommended. If space permits, registration inside the lounge on the day of benefit will be permitted. Please print your receipt and bring it with you.

For more information: http://www.facebook.com/event.php?eid=170616809660335


Did You Know?
"Gilda's Club is a treasure and has quickly become an integral and vital part of the fabric of Seattle. The fact that Gilda's Club is free to the whole community is a tribute to what you have been able to accomplish and a wonderful resource and comfort to all of us."
Greg Nickels
Former Mayor of Seattle
Join Gilda's Club
Membership is Free!
Click the button below to learn about all the benefits you'll receive.
Become A Member