Contact Us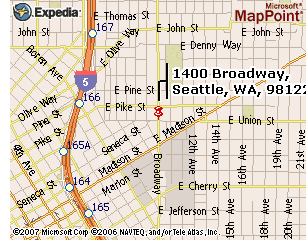 Driving Directions
Our Club House is located on the corner of Broadway and East Union in Seattle. Plenty of close-by metered street parking and parking lots. Wheelchair ramp at rear entrance.
Metro Bus
Visit the Metro Online or call 206-287-8463 for bus schedules and route information. METRO offers the Special Transportation Service Program for people with a disability, which includes Reserve-A-Ride and taxi script. Call 206-689-3113 for an application.
The following busses stop at Gilda's Club Seattle: 2, 9, and 60.
Call the Metro Rider Information Office at 206-553-3000 for custom trip planning.
Washington State Ferries
Visit their web site for schedule information or call 206-464-6400.
Taxis
Orange Cab 206-522-8800.
Yellow Cab 206-622-6500.
Note: The standard cab fare in Seattle is $2.50 initial drop, $2.00 per mile.
Clubhouse Hours
| | |
| --- | --- |
| Sunday | Clubhouse Closed |
| Monday | 9:00am-5:00pm |
| Tuesday | 9:00am-9:00pm |
| Wednesday | 9:00am-9:00pm |
| Thursday | 9:00am-5:00pm |
| Friday | 9:00am-2:00pm |
| Saturday | Clubhouse Closed |
Other Gilda's Clubs
Each affiliate clubhouse reflects the comfortable, home-like atmosphere that is Gilda's Club. Away from a medical setting, members find it takes very little time to unwind, relax and learn how to live with cancer. You will find that the Gilda's Club program is the same whether the affiliate is located in South Florida or Seattle, WA.
Did You Know?
"Many of my patients have found hope and joy in the many activities and educational programs you offer. Having lost my wife, Marsha, to ovarian cancer in 1993, I personally understand the pain that patients and their families go through and I commend Gilda's Club for filling this need in the Seattle community."
Saul E. Rivkin, MD
Hematology, Medical Oncology, Swedish Cancer Institute, Chairman of the Board & Founding Director, Marsha Rivkin Center for Ovarian Cancer Research